New Testament Survey
2 Corinthians
LOOKING AHEAD TO . . .
Second Corinthians
Key Verse(s):
1:3-4
4:5-6
4:16-18
5:17-19
6:17
12:9
Key Chapter(s):
Chapter 6
Chapter 8
Chapter 9
Key Word(s) or Concept(s)
Defense
Comfort
Separate / Separation
Giving
Consider:
            How is Paul's earlier letter reflected in this letter?
            Did the Corinthians change?
            What does it mean to be a cheerful giver?
            What does it mean to be unequally yoked?
Suggested Reading beyond the Key Chapter(s):
Chapter 1
Chapter 4
Chapter 5
Second Corinthians
This is the second letter preserved in Scripture written to the Church in Corinth by Paul. There is little or no dispute over his authorship of this epistle. Interestingly enough, the voice of the early church fathers gives stronger support to Paul's authorship of 2 Corinthians than it does to 1 Corinthians.
Theme and Purpose

The correspondence and visits to the Corinthian church must be viewed as a series of on-going discussions over continuing issues and their resolution. To better focus about the intent of these letters to the Corinthians, think of these letters from Paul as correspondence between you and your parents or you and your children or you and a very good friend. The history of the Corinthian church is generally a similar type of correspondence.
Paul sent Titus to Corinth to act as his ambassador (2 Cor. 8:6; 12:18). He anxiously awaited Titus' report on the success of Paul's early letters, including the severe, lost letter. Titus' report was, obviously, not all aglow with success. Paul returns to many of the same themes covered in his early letter. These include:
Continued immorality between a brother and his step mother (1 Cor. 5:1-6; 2 Cor. 2:5-11)
Paul&s plans for a future visit (2 Cor. 1:15--2:4)
Divisions in the church created by Judaizers who attacked Paul's authority (2 Cor. 10:10-12).
Positively, Paul found the Corinthians had well received his "severe" letter. The Apostle encourages them for this in an expression of Paul's genuine love (2 Cor. 7:3-16).
A couple of other purposes are apparent in the letter as well. First, Paul is concerned about the Corinthians' contribution to the church at Jerusalem (2 Cor. 8, 9). These two chapters show us two differing characteristics of doctrine and the early church. First, Paul strove with all of the churches to maintain the "oneness" experienced by the early church immediately following Pentecost. Review Acts 2:42-47 and note how the church acted "with one accord." It was the strong desire of God, as expressed by Paul, that this unity continues throughout the life of the church on plant earth.

This concept of being in or with one accord is not a ritualistic, robotic approach but rather is the idea of dealing with each other in brotherly love at all times. The Greek word translated as "with one accord" is found in eleven times in Acts (1:14; 2:1; 2:46; 4:24; 5:12; 7:57; 8:6; 12:20; 15:25; 18:12; 19:29) but the actual word is not found elsewhere in the New Testament except in Romans 15:6 where a variation of the word is translated as "with one mind." The idea is prominent, though, as an out-working of Christ's love (Eph 5:2) which should be natural among Christians (1 Thess 9). All of this is, of course, an out-growth of following Christ's teaching as to the second greatest commandment.

And the second is like unto it, Thou shalt love thy neighbour as thyself.
Matthew 22:39
In this letter, Paul's use of oneness involves the concept of common thinking (2 Cor 13:11) as well as common sharing (2 Cor 8, 9).
Secondly, these two chapters (8, 9) provide the clearest single expression of giving in the New Testament church to be found in Scripture. "The earth is the LORD'S, and the fulness thereof" (Ps 24:1). The concept is that we are to give back to God by supporting His work in a cheerful, loving manner. We should be giving to God's work out of a deep love for this work. This is the attitude Paul attempts to convey to the Corinthians with regard to the offering which is going to Jerusalem. Notice that this offering is not for evangelism or missionary work. There is a deep need in Jerusalem amongst the people. They need food and clothing and housing. This offering is designed to help that effort.

A "new" purpose of this letter is Paul's on-going encouragement to the Church to continue in obedience to God. This obedience is expressed in terms of an obedience to Paul's teachings since they are the Words of God being spoken through him (10:8; 12:1-4; Chp 10). Here Paul sounds much like the prophets of old. Paul does not add the phrase "thus saith the Lord," but this is the emphasis of his admonitions.
Inspiration is the concept of God having breathed out into man the exact words and thoughts which went into the original manuscripts of the Bible. This statement is most clearly found in Paul's writings in 2 Timothy 3:16 and in Peter's writings in 2 Peter 1:20, 21. At the same time, Peter recognizes Paul's writings as Scripture (2 Pet 3:15, 16). In 2 Corinthians 10:8, Paul himself speaks of the words "which the Lord hath given." Nothing could be a clearer statement that the Apostle knew and understood he was writing and speaking new Scripture.

A related concept is that of illumination. Illumination is the process whereby the Holy Spirit makes the Scriptures come alive in our own hearts. This is the process whereby we grow in knowledge of God's Word. When we read the Bible and feel God speaking to us, this is illumination at work! Today there is no more inspiration (Heb 1:1-4), but there is plenty of illumination

All scripture is given by inspiration of God, and is profitable for doctrine, for reproof, for correction, for instruction in righteousness.
2 Timothy 3:16
Date of Writing
Paul writes in 2 Cor 12:14 and 13:1 of an intended visit to the city. Paul was in Ephesus and would depart for Corinth after these three winter months (Acts 20:3). He left from Philippi in the spring, after the feast of Unleavened Bread, a spring event (Acts 20:6). This would make the writing of an intended visit in the fall of the prior year.

The two Corinthian letters seem to be written in the spring (1 Cor) and fall (2 Cor). There is nothing in Scripture which makes these fall in the same calendar year. Although 2 Corinthians 8;10 and 9:2 speak of "last year," there is no indication as to whether Paul is using a Roman or Jewish calendar, nor whether he might be using a civil or religious calendar in his reckoning of time. Thus, "last year" on the Jewish civil calendar would fall in the same calendar year of the Roman calendar. On the other hand, "last year" on the Roman calendar would mean an eighteen month gap between the two letters. Given all of the events which seem to have occurred in-between the two letters, this seems more likely.
Accordingly, 2 Corinthians is written in the fall of A.D. 55/56.
Special Considerations
Comfort is a key theme in this letter. It is, first of all, a comfort which comes from God to the believer in the time of trouble. Then, it is the comfort which a believer is able to give to others, because he has experience the grace of God.

Who comforteth us in all our tribulation, that we may be able to comfort them which are in any trouble, by the comfort wherewith we ourselves are comforted of God.
2 Corinthians 1:4
This comfort is apparent in Paul's tone with the Corinthians, demonstrating it as an outpouring of the love of Christ which enables us to comfort others. The presence of this comfort flows through this letter.
Another concept is that of separation. The Christian is to be the unique person of God. This explains the dilemma created by the activities of the church at Corinth. The idea of separation first appears in the giving of the Old Testament law and then is transferred to the church body by the New Covenant. The people of God are to be like God. This means they are not to participate in the pagan, immoral activities of the world. In the terms of this letter, the believer should not place himself in a position of needing to compromise his Christian ethics. This is why Paul admonishes the church at Corinth not to be "unequally yoked" (2 Cor 6:14). Rather, it is to be separated unto God.

14 Be ye not unequally yoked together with unbelievers: for what fellowship hath righteousness with unrighteousness? and what communion hath light with darkness? 15 And what concord hath Christ with Belial? or what part hath he that believeth with an infidel? 16And what agreement hath the temple of God with idols? for ye are the temple of the living God; as God hath said, I will dwell in them, and walk in them; and I will be their God, and they shall be my people. 17 Wherefore come out from among them, and be ye separate, saith the Lord, and touch not the unclean thing; and I will receive you, 18 And will be a Father unto you, and ye shall be my sons and daughters, saith the Lord Almighty. 7:1 Having therefore these promises, dearly beloved, let us cleanse ourselves from all filthiness of the flesh and spirit, perfecting holiness in the fear of God.


2 Corinthians 6:14-7:1
It is true that we need to deal with the world in order to evangelize. If we understand the world and the times, we may apply the Word with great skill. However, as Warren W. Wiersbe writes, "but we must not imitate the world in order to try to witness to the world. Years ago, Oswald Chambers wrote, 'Today the world has taken so many things out of the church, and the church has taken so many things out of the world, that it is difficult to know where you are' (The Servant As His Lord, p. 17). 'Today the world has so infiltrated the church,' said Vance Havner, 'that we are more beset by traitors within than by foes without. Satan is not fighting churches - he is joining them.'" 8.

Remember sanctification? Well, when we are sanctified, there are really two concurrent steps to take. First, we are separated to God. But, secondly, we must be separated from the world and sin. This is the separation Paul speaks of in this letter.
Jesus is presented in this book as the Christian's comfort (1:5), triumph (2:4), and Lord (2:4). What a wonderful combination! This frees the believer in a new found liberty for a new life in Christ (3:17). This is because Christ is not only Lord, He is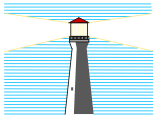 Our Light (4:6)
Our Judge (5:10)
Our Reconciler (5:19)
Our Gift (9:15)
Our Owner (10:7)
Our Power (12:9)
This book, then, is about Paul's ministry and how we should use this ministry as an example in our own lives. We should walk as Paul walked.
Outline
I.         God is a God of comfort - 1:1-11
II.        Paul discusses his change of plans - 1:12-2:4
III.       Forgiveness - 2:5-11
IV.      Ministers of the New Testament - 2:12-3:6
V.        Ministry of glory - 3:7-18
VI.      Ministry which is honest and tested - Chp 4
VII.     Ministry which is confident - 5:1-10
VIII.    Ministry which is reconciling - 5:11-21
IX.      Ministry which suffers - 6:1-13
X.        Separation because believers are the Temple of God - 6:14-7:4
XI.      Good news brings joy - 7:5-16
XII.     On giving - Chps 8, 9
XIII.    A defense of Paul's ministry - Chp 10
XIV.   False teachers - 11:1-15
XV.     Paul boasts in Christ 11:16-33
XVI.   Paul's visions of the Lord - 12:1-10
XVII.  Signs of a true Apostle - 12:11-18
XVIII. An appeal for repentance - 12:19-13:10
XIX.   Benediction - 13:11-14

Paul writes in 2 Corinthians 4:7-10 as follows:

But we have this treasure in earthen vessels, that the excellency of the power may be of God, and not of us. 8We are troubled on every side, yet not distressed; we are perplexed, but not in despair; 9Persecuted, but not forsaken; cast down, but not destroyed; 10Always bearing about in the body the dying of the Lord Jesus, that the life also of Jesus might be made manifest in our body.

Is this a description of your life?
Is this the attitude you display towards your trials and troubles of life?
Should it be?

And he said unto me,

My grace is sufficient for thee: for my strength is made perfect in weakness.

Most gladly therefore will I rather glory in my infirmities, that the power of Christ may rest upon me. Therefore I take pleasure in infirmities, in reproaches, in necessities, in persecutions, in distresses for Christ's sake: for when I am weak, then am I strong.
2 Corinthians 12:9
Footnote: 8. Warren W. Wiersbe, Be Determined, Colorado Springs: Chariot Victor Publishing, 1992, 141.